Welcome!

Ananda Dharma Center is a Tibetan Buddhist Center, teaching and practicing the Buddha Dharma. Our programs explore how the universal wisdom and compassion of the ancient Buddhist tradition can transform our own lives, as well as bring practical benefit to the world. Our events range from the devotional to those suited for everyone, regardless of background or belief, seeking to uncover the truth within themselves, develop peace of mind, and find the happiness and meaning we all long for. The center is located in the beautiful San Jose hills, in the San Francisco Bay Area near Silicon Valley. We invite all spiritual seekers to join us.

---
News & Special Announcements

SAVE THE DATE - SPECIAL EVENTS

May 28: Geshe Dakpa, Teaching & Transmission

June 11: Saka Dawa Celebration

HH THE DALAI LAMA WILL VISIT THE US THIS YEAR:

Public Talk, June 16, 2017 at UC San Diego,

http://Compassion2017.ucsd.edu
---
Geshe Dakpa, Tara Teaching & Transmission


May 28, Sunday

10am-12pm Teaching & Transmission

12pm-2pm Vegetarian Pot Luck Lunch

2pm-3:30pm Tara Puja

This is a very special event, and we encourage everyone to try to make the time to attend. Geshe Ngawang Dakpa will teach about and give the oral transmission of the Tara practice. Geshe Dakpa is a beloved and highly respected Geshe from old Tibet – part of the last generation of these great teachers. He is also particularly skilled in Tara practice, and he is a profoundly devoted student of Choden Rinpoche.

Please see our events page for more information

.
---
---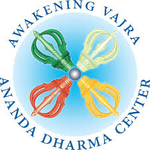 Ananda Dharma Center is a 501(c)(3) religious nonprofit organization, and donations are tax deductible. Awakening Vajra is a separate but spiritually affiliated organization, dedicated to fulfilling H.E. Choden Rinpoche's vision around the world. Ananda is a more localized community of practitioners. Founded in 2005 by H.E. Choden Rinpoche and Geshe Gyalten, we are part of the Gelug tradition and also uphold the whole of the Buddha Dharma.
Ananda Dharma Center, 3888 Balcom Rd., San Jose, Ca 95148, (408) 430-6756,
Contact@AnandaDharmaCenter.org
Copyright ©2017 Ananda Dharma Center. All Rights Reserved.
---