Choden Rinpoche - updates about the Yangtze (young reincarnation)

Choden Rinpoche's reincarnation was born in June of 2016. The Dalai Lama has officially confirmed the identity of the Yangzte (young reincarnation) Choden Rinpoche. We will do our best to keep you updated on all news related to young Choden Rinpoche, as we receive it.

---
First Long Life Puja for Yangtze Choden Rinpoche
January 21, 2018

We are very pleased to announce that the first long life Puja for His Eminence Yangtze Choden Rinpoche will be held in Bodhgaya, on January 21, 2018 at 6pm. The Puja will be held at Drepung Losel Ling Monastery, near the Kalachakra Ground, West Side No.4 Tanky Road.
We hope you can attend! If you are in Bodhgaya, this is an incredible opportunity to make a connection or deeper your ties with Rinpoche, while he is here, by making an offering and receiving a blessing from him personally.
If you are unable to attend, you can make an offering by donating thru either Awakening Vajra:
http://www.awakeningvajra.org/support-av/donate/
-or-
Donate thru Ananda Dharma Center's paypal link on our
homepage
, before January 21, with a comment that it's for Rinpoche's Long Life Puja. We'll send you a donation confirmation and tax receipt within 30 days.
---
Rinpoche is now in Bodhgaya!
January 13, 2018

Young Choden Rinpoche is now in Bodhgaya to meet HH the Dalai Lama there!
Meanwhile, the Dalai Lama will give teachings from Bodhgaya for the next 4 days, beginning tonight. It's not certain if Rinpoche will be in attendance, but, as the livestream camera pans the Sangha & audience frequently, feel free to keep an eye out for Geshe Gyalten and a little Rinpoche.
The Dalai Lama's teachings will be a Commentary on Bodhichitta & the 37 Practices, followed by an Avalokiteshvara Empowerment, given over the next 4 days.
It starts tonight, January 13th, 2018, at approx. 7:30pm PST
Watch here:
https://livestream.com/DalaiLamaEnglish/bodhgaya-2018-commentary?origin=event_published&mixpanel_id=a381748625e4d-0fb7e7c4d-43681f0a-2ee000-a381748626ee7&acc_id=4743631&medium=email
---
Initial Ceremonies Honoring the Young Choden Rinpoche
announced January 12, 2018

Geshe Gyalten Kungka writes from Orissa, India:

Dear friends and students of Rinpoches all over the world:

We trust that you have all been very happy with this most recent news, of the discovery of the young (Yangtze - Reincarnation) of H.E. Choden Rinpoche. The last two days have been the most incredible time, and we wanted to share with you some of the ceremonies that have taken places and for you to be part of these amazing events that have been occurring during this most auspicious of times here in Orissa.

We started on the 10th of January, with a visit to see Rinpoche, and with a wonderful and warm welcome from Rinpoche's family, at the Tibetan settlement in Orissa. This meeting was attended by the Sangha from Lhopa Kamsten Monastery and the Reincarnation Search Party. This was the first time Geshe Gyalten & Shantideva Rinpoche had met with the new Rinpoche, following the initial meeting with the Search Party, and following the reincarnation confirmation from His Holiness the Dalai Lama.

The day began at 9:00am, with a private audience at Rinpoche's house. Geshe Gyalten and the Rinpoches from Sera Monastery met with the family and the young Rinpoche, and they offered to Rinpoche the mandala (body, speech and mind) of the Buddha. This was done by Geshe Gyalten, Shantideva Rinpoche, Shabdrung Rinpoche, Chongur Rinpoche, Geshe Namdol from Sera, and with attendance with some other close sangha and friends. It was wonderful to see the young Rinpoche, happy and playful, being so comfortable with so many new faces around.

The next day, for Rinpoche's official recognition, was the most Auspicious of days for three reasons. First, Orissa is one of the 24 holy places of Heruka. Second, this day was also a Dakini Day, which was very auspicious for celebrations. Third, this day was the new Yangtze Rinpoche's most auspicious day of the year, in his personal astrology. The day began with a private meeting in the morning, with the offering of the precious enlightenment robes. This is a traditional ceremony, where the young Yangtze Rinpoche is given the new Robes and the yellow (Bodhisattva) hat that you see depicted in the pictures below. This was preceded with the mandala offering and the handing of the official recognition letter from HHDL to Rinpoche's family and to Rinpoche himself.

Then the day's events unfolded with an incredible attendance and turnout, from around 500 members of the Tibetan community and local village. The public ceremony was lead by traditional dharma activities of chanting and a procession, with the young Rinpoche being lead (driven) to the main venue in the village, with motorbikes and flags, to the Sera Je Puja Temple in the local settlement village. The atmosphere was happy and fun with many of the local villagers serving food and drinks for all in attendance.

The ceremony began with a Khata offering to both HHDL's throne and a mandala offering to the new Yangzi Rinpoche on his throne. The Sera Monks chanted the 16 Arhat Prayer through this ceremony, while the mandala was offered. Then followed speeches by different members on the community. This was hosted and led by Shabdung Rinpoche, and it began with the life story of Rinpoche by Geshe Gyalten. There are many wonderful stories of Rinpoche's life, and we will share in more detail in a later post the miracles that surrounded his life and precious rebirth. This was then followed by a personal talk by the head of the Tibetan settlement. The morning speeches concluded with Chogyur Rinpoche, who shared what a great honor, privilege, and extensive merit there as for all in the community, with Choden Rinpoche choosing to be born here in this Tibetan settlement. Then the audience offered Khata to HHDL's throne, to Rinpoche, to Geshe Gyalten, and to Rinpoche's family.

This was incredible, with so many people there to offer Khata, there were around 500 members of the community turning out in attendance, with such a wonderful atmosphere. We then proceeded to the Village square, where all the community had a wonderful lunch, offered by Choden Labrang, attended again by the whole community. After which there followed wonderful entertainment, by all ages of the community. A happy and joyous coming together, by so many people, and so many ages. There was traditional Tibetan dancing, singing and dancing, and Opera. The young children's show was especially funny, and a delightful moment in the day when young Rinpoche came down and joined one of the singers, held hands and joined her for her song. This was a very special, and magical touch to end the most auspicious and wonderful of days.

This has been the most wonderful time, and we hope that this post and the photos help you feel also part of this occasion. There has been so much enjoyment and happiness at this most auspicious of times. Please now keep praying, and keep young Rinpoche in your hearts, and wish that he can be ready as soon as possible to come and teach again for the benefit of all sentient beings.

Much love from all the Sangha here, in Odissa, and may you all be well and happy.

---
HH the Dalai Lama Confirms the Identity of the Reincarnation of Choden Rinpoche, announced January 11, 2018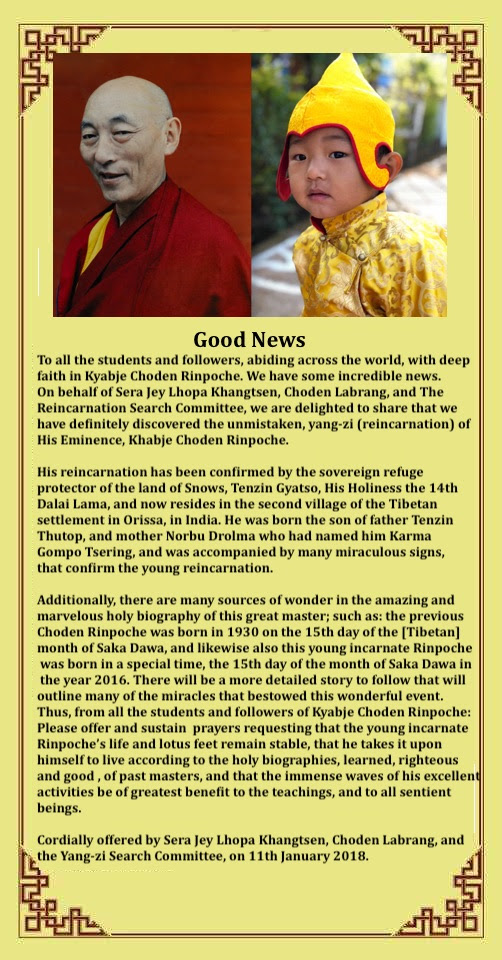 ---
HH the Dalai Lama Confirms that Choden Rinpoche's Reincarnation was born, announced approx. June 26, 2017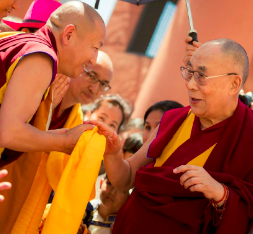 To all the friends, students, devotees, and well wishers of H.E. Choden Rinpoche around the world, Geshe Gyalten would like to share the wonderful news regarding the reincarnation of our precious guru, H.E. Choden Rinpoche.

This past June 15th, Geshe Gyalten had the great fortune and honor to have a private meeting with H.H. the Dalai Lama in San Diego. The Dalai Lama confirmed to Geshela that our most precious guru, H.E. Choden Rinpoche, has reincarnated. The Dalai Lama also believes that the new reincarnation of H.E. Choden Rinpoche is extremely auspicious and powerful.

His Holiness kindly advised Geshe Gyalten to instruct all of Rinpoche's students to recite Chanting the Names of Manjushri in order to create the causes and conditions for the successful identification of Rinpoche's unmistaken reincarnation. His Holiness explained that he engaged in this practice himself, in order to recognize the reincarnations of his two late tutors.

Therefore, Geshe Gyalten kindly requests that all students, devotees, well wishers, monasteries, temples and Awaking Vajra Dharma Centers around the world recite Chanting the Names of Manjushri as much possible in order to help recognize the unmistaken reincarnation of our precious Guru, Choden Rinpoche. It is also very beneficial to recite Rinpoche's name mantra and the Prayer for the Swift Return of His Eminence Choden Rinpoche, written by His Holiness the Dalai Lama.

Choden Rinpoche's Name Mantra
OM AH GURU VAJRA DHARA SUMATI JAYA SHASANA VIBHAYA ISHVARA SARVA SIDDHI HUM HUM

---