Help build the Choden Rinpoche Memorial Relic Stupa at Ananda!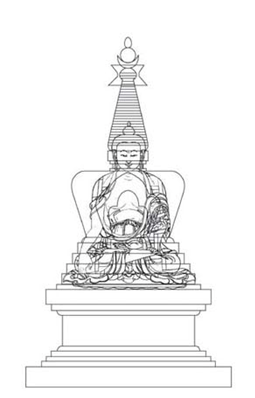 We're building a stupa at Ananda Dharma Center, which will house some of Rinpoche's relics!

One of Choden Rinpoche's final wishes was for a stupa to be built on the property of his home center, Ananda Dharma Center. In fact, his final act before leaving California for India for the last time was to consecrate the site of the future stupa. Please help us realize our precious teacher's dream!

What is a Stupa?
The Tibetan word for stupa is Chorten, meaning "the basis of offering." Simply put, a stupa is a spiritual monument that represents the body, speech and especially the enlightened mind of the Buddha. It is, in essence, the architectural representation of the Buddha's enlightened mind. Every part of a stupa symbolically shows the path to enlightenment. A stupa, therefore, offers innumerable benefits to sentient beings. It is said that simply seeing the structure is a cause for liberation. Building or making offerings to fund the building of a stupa is a source of enormous merit, a cause of quickly attaining enlightenment. Don't miss this unique opportunity to be part of this special project!

"When a great teacher passes away, his body is no more, but to indicate that his mind is dwelling forever in an unchanging way in the dharmakaya, one will erect a stupa as a symbol of the mind of the Buddhas" - HH Dilgo Khyentse Rinpoche

Please note, this will be a different stupa from the Choden Rinpoche relic stupa complex to be built in India by Awakening Vajra. This stupa will also contain some of Rinpoche's relics, but it will be built at the Ananda retreat center in California.

Please donate via check or the Donate button on this page. Please include the word "Stupa" on your check or the comment section of the online donation. Please note, PayPal does deduct some small fees. For larger donations especially, please consider donating by check or contacting us for information about a bank transfer. Thank you!

---