Services
Prayer List
Blessings, Prayers, & Pujas
Consultations & Practice Discussions
Products
Books by H.E. Choden Rinpoche & Geshe Gyalten
Dharma Supplies
Pricing

---
SERVICES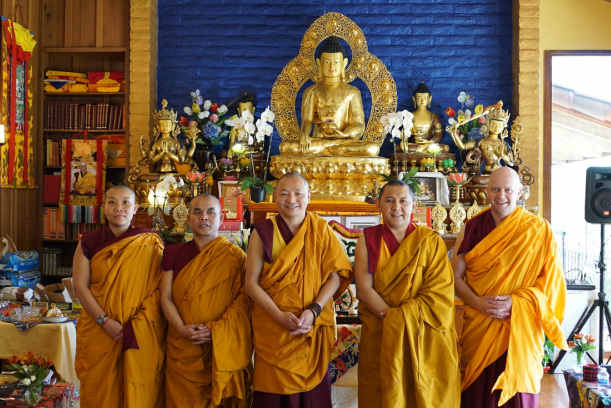 PRAYER LIST
If you would like to be added to our prayer list or add a loved one, please send us a request.
BLESSINGS, PRAYERS, & PUJAS
Our Sangha are available for Blessings, Prayers, and Pujas. They can be held at the Center, or you can invite the Sangha to your home, within the Bay Area. The consecration of a house or other premise can help purify any obstacles and cleanse the surrounding environment in order to increase the likelihood of good fortune and health to those living there. It can also help heal those in the home. You may invite the Sangha to perform blessings for holy images, ritual objects and Dharma books, etc., as well as to fill holy objects with blessing prayers.
Our Sangha can perform blessings for new born babies and similar ceremonies. Our Sangha can also perform a large variety of personalized prayer services and pujas, such as pujas for health, swift assistance, long life and healing, wealth, removing obstacles, removing negative energies, the 49 days of prayers for the recently deceased, and more.
Please contact us to discuss and schedule.
CONSULTATIONS & PRACTICE DISCUSSIONS
Our teachers are available to meet privately to discuss your personal spiritual practice at the Center. They are also happy to offer spiritual guidance in relation to your health, psychological well being, family, relationships, career, & business. However, please note, this is not therapy. They are neither licensed counselors nor financial planners. It is merely to help you explore the spiritual dimension of life's issues and possibly offer you some suggestions, such as suggested mantras and meditations, etc. They can also help with Tibetan astrological guidance, such as determining auspicious days for significant life events. Please contact us to schedule.
---
PRODUCTS
BOOKS
Books By H.E. Choden Rinpoche
Stairway to the State of Union
Hundred Deities of Tusita
An Offering Cloud of Nectar
Books by Geshe Gyalten
Immovable, Like a Mountain: The Mind of Calm Abiding

DHARMA SUPPLIES
We have a large collection of high quality Dharma supplies available at the Center, such as:
Malas of various sizes
Vajra & Bell with Embroidered Covers
Mandala Kits
Damaru Drums
Chod Drums with Embroidered Cover
Tibetan Door Hangings
Katas
And More

We purchase many of our Dharma supplies from India, Nepal and Tibet, and we can also assist you with ordering high quality and less common supplies, which we may not currently have, such as the fringe Chod hat, etc., as appropriate for your practice. To purchase, when you visit the Center, ask to speak with Venerable Tsondue (aka Jampa-la). Venerable Tsondue is also highly knowledgeable about the use of these items and the intricate symbolism found on the objects. Please feel free to ask for instruction.


---
PRICING
Our services are currently offered free. A donation is greatly appreciated. Please note, the teachings suggest that at least a small donation helps create the necessary karmic connection to receive the benefit of these blessings. A suggested donation, such as for a house visit, is a donation to the center and individual offerings to the attending monks and nuns, according to your ability. Volunteering or offering a meal is also greatly appreciated.

Books and Dharma Supplies are priced individually and currently available for purchase in person at the center.