His Holiness the 14th Dalai Lama of Tibet
His Eminence Choden Rinpoche
Geshe Gyalten Kungka
Geshe Thupten Kunsang
Venerable Gyalten Tsondue

---
His Holiness the Dalai Lama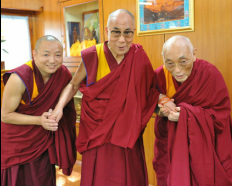 ---
---
His Eminence Choden Rinpoche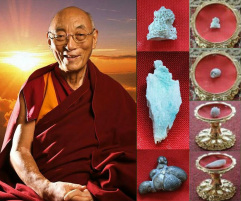 Choden Rinpoche was considered one of the great Tibetan Masters of modern time, sometimes referred to as the Guru to the world's Gurus. In the 1950's, when the Dalai Lama was tested through debate as a prerequisite to receiving his Geshe degree, Choden Rinpoche was one of the masters the Dalai Lama had to debate against. When China invaded Tibet in 1959, Rinpoche went into a 19 year retreat. He eventually left Tibet, teaching in India and many parts of the world.
Rinpoche manifested passing away from this life on September 11, 2015. The images in the photograph next to Rinpoche are some of the relics left behind in his ashes after his cremation. He and Geshe Gyalten established Ananda Dharma Center in 2005, and he intended for Geshela to run the center after his passing.
For a more detailed biography of Rinpoche, please click here
.
To read about Rinpoche's life in Tibetan, please click here
.
Choden Rinpoche's reincarnation was born in June of 2016 in India. The identity of Rinpoche's reincarnation was confirmed by the Dalai Lama in January 2018.
You can find pictures and updates about the young reincarnation of Choden Rinpoche here.
To help maintain a positive connection with Rinpoche during this process, students can recite: Rinpoche's name mantra, the Prayer for his Swift Return (written by the Dalai Lama), and
Chanting the Names of Manjushri
. All three are below.
---
Choden Rinpoche's Name Mantra
OM AH GURU VAJRA DHARA SUMATI JAYA SHASANA VIBHAYA ISHVARA SARVA SIDDHI HUM HUM

---
Geshe Gyalten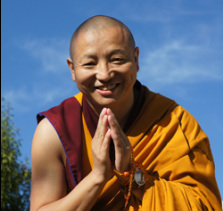 Geshe Gyalten is the head of both Ananda Dharma Center and
Awakening Vajra
. Geshela is the author of the book Immovable, Like a Mountain: The Mind of Calm Abiding. He has many students in the US and around the world. His teachings, pilgrimages and retreats are profound and life changing, and he is deeply loved by his students.
Geshela was born in Lhasa, Tibet in 1966. While still in his mother's womb he received his Dharma name, Tseten Gelek, from Choden Rinpoche. His grandmother, mother and father had great irreversible faith and devotion for Choden Rinpoche. They served Rinpoche while he was in Tibet in solitary retreat for 19 years.
Since childhood, Geshela had a strong wish to become a monk. In 1985 he left Tibet for India to meet H.H. the Dalai Lama, receive his blessing, and act according to His Holiness's advice. The Dalai Lama instructed him to study in Dharamsala, India, where he studied modern subjects, became the top student in his class, and also excelled at sports. Geshela was well known as the best orator and debater among all the Tibetan schools in India at this time.
Geshela became a monk in 1990, receiving ordination from Choden Rinpoche who took him as a close personal student. Geshela is often referred to as Rinpcohe's "Heart Son." Under Rinpoche's guidance and instruction at Sera Monastery, Geshela learned the five great classical treaties of Buddhist Philosophy: the Perfection of Wisdom, Middle Way, Logic and Reason, Treasury of Knowledge and Vinaya (monastic discipline) as well as Lam Rim, Mind Training and Tantra. Geshela received the Geshe Degree (equivalent to a PhD in Buddhism) in 2005 and also learned Tibetan Medicine.
For well over a decade, he traveled with Rinpoche around the world to assist Rinpoche and to share his extensive knowledge of Buddhist philosophy, meditation, Tibetan medicine, and yoga. He speaks 5 languages: Tibetan, English, Hindi, Chinese and Italian. He is easily accessible, kind, patient, funny, and easy to talk with in many languages.
After Rinpoche passed, Geshela met with His Holiness the Dalai Lama, asking for his advice about continuing Rinpoche's projects, such as Awakening Vajra and related Dharma Centers like Ananda, and the Dalai Lama advised him to continue these Centers as Rinpoche instructed. We are greatly honored that the Dalai Lama himself has given his blessing for Ananda Dharma Center to continue under Geshe Gyalten's leadership.
Choden Rinpoche wrote a beautiful prayer for the long life of Geshe Gyalten. It is attached below.
---
Prayer for the long life of Geshe Gyalten written by Choden Rinpoche.png
File Size:
250 kb
File Type:
png
Download File
---
---
Geshe Kunsang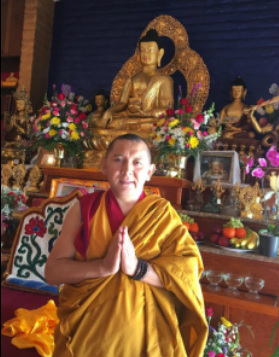 Executive Director, Ananda Dharma Center

Geshe Thupten Kunsang was ordained at the age of 10 at Sera Jey Monastery in 1976. He received his Getsul vows from Venerable Ling Rinpoche in 1977, and in 1998 he received full ordination (Gelong) from His Holiness the Dalai Lama.

Geshe Kunsang completed over 18 years of study, including The Five Great Treatises of Buddhism, and he received his Geshe Degree (equivalent to a PhD in Buddhist Philosophy & Practice) in 2001. After receiving his Geshe Degree, Geshela served as an administrator of Sera Lhachi Thechenling for 3 years before becoming attendant to H.E. Choden Rinpoche from 2007 to 2009. Geshela also served as the Chief Administrator of Sera Je Lhopa Khangtsen from 2008 to 2014.

Geshela is very kind and easy going. He is also experienced in the management of Dharma organizations, and we are very fortunate that Geshela is the Executive Director of Ananda Dharma Center.

---
---
Venerable Tsondue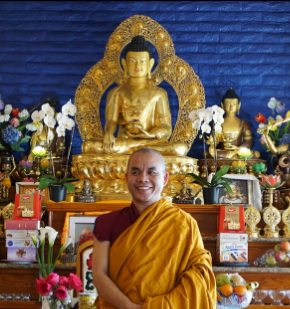 Venerable Gyalten Tsondue (also known affectionately as Jampa-la) was born in Tibet and eventually came to India. Always wanting to be a monk, he was ordained in 1994, receiving his novice vows from H.E. Choden Rinpoche.

From 1994 to 2013 Ven. Tsondue was a resident monk at Sera Jey Monastery in India, pursuing Buddhist education. While there, he was also an assistant to Choden Rinpoche and a translator for foreigners, as he speaks English fluently. On February 23, 2009 he received his full ordination vows from H.H. the Dalai Lama.

After nearly 20 years of study, Choden Rinpoche chose Ven. Tsondue to be one of the resident teachers at Ananda for Rinpoche's students here. When Ven. Tsondue came to the United States as part of Rinpoche's entourage, Rinpoche gave a beautiful introduction of Ven. Tsondue and advised that he is a fully qualified dharma teacher whose understanding of dharma knowledge is penetrative and vast. Ven. Tsondue is also highly knowledgeable about the symbolism and use of dharma instruments and conducting rituals.

After Rinpoche passed, Ven. Tsondue spent a year teaching an in depth study of Rinpoche's book, The Ford of the Fortunate (included within Stairway to the State of Union) at Ananda. The students who attended that small but profound class are immensely grateful. We are fortunate that Ven. Tsondue continues to serve as a resident teacher at Ananda Dharma Center.

---